Aldrich, Greg
Research Associate Professor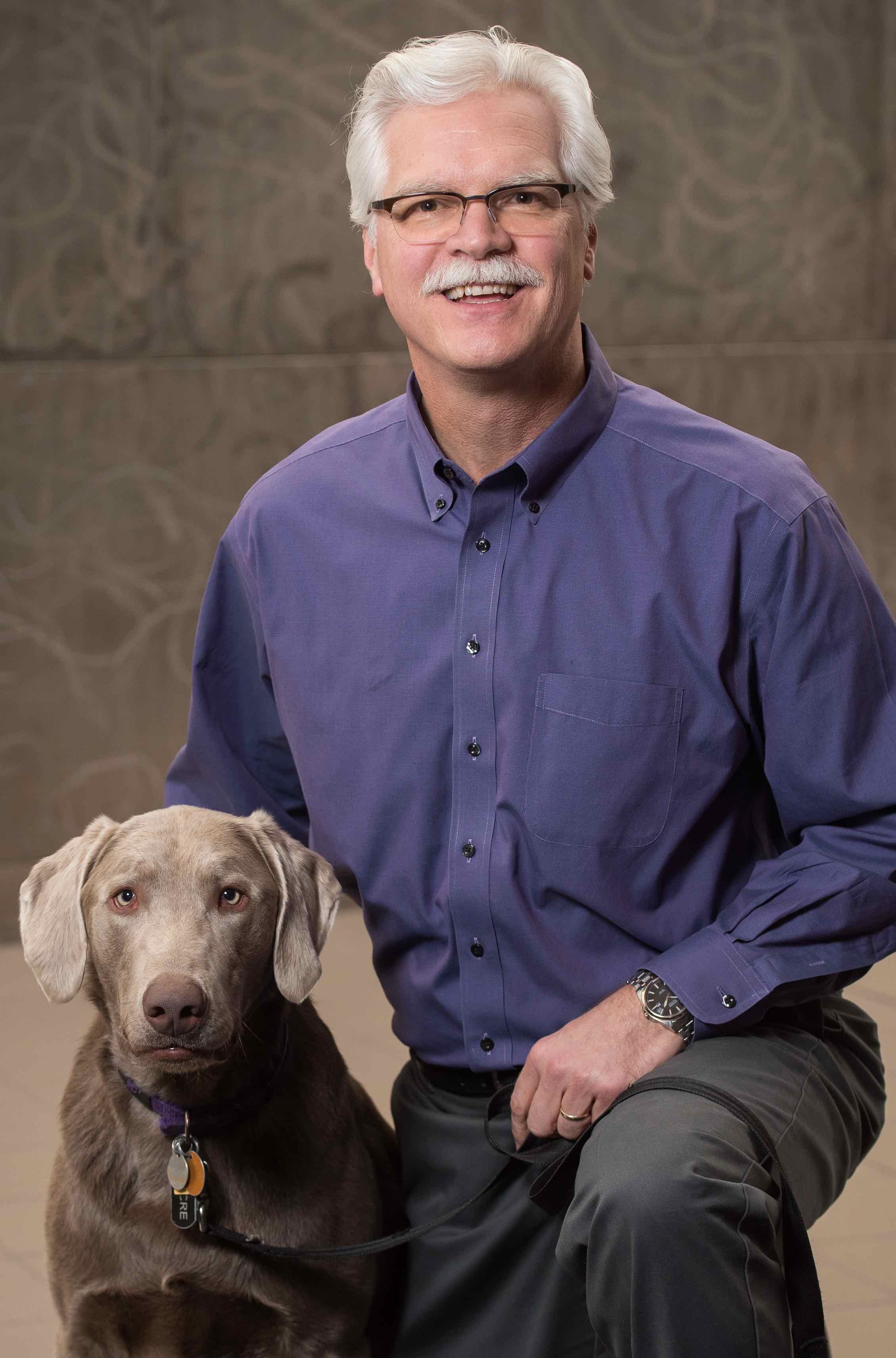 Waters 003
Manhattan, KS 66506
785-532-6199
aldrich4@ksu.edu
Area(s) of Specialization
Pet food processing, pet food nutrition
View My Curriculum Vitae (PDF)
Education
Ph. D. Ruminant Nutrition (1995) University of Illinois: Effects of heat and chemical treatment of whole oilseeds on site of digestion of protein and lipid by cattle

M. S. Animal Sciences (1991) University of Missouri: Feed intake, diet utilization, and thermal balance of ruminants as affected by endophyte-infected tall fescue
B. S. Agriculture (1984) Kansas State University: Animal Science and Industry
Bio Brief
Dr. Aldrich is establishing a research program at K-State that focuses on characterizing nutritional impact of modern pet food processing. His efforts are intended to better describe the impact that thermal and mechanical processes have on food safety, nutrient utilization, and product shelf life. He is also helping the department construct a Pet Food Science Program for undergraduate and graduate training, and to foster new channels of teaching and exchange between the pet food industry and Kansas State. Dr. Aldrich brings to the University practical experience in the pet food industry as an active nutrition consultant. He has provided diet formulation, technical service, and new product development expertise to pet food companies and ingredient suppliers around the globe for much of the last two decades. Dr. Aldrich writes a monthly column for Petfood Industry magazine, the leading trade industry publication, on pet food and ingredient issues, has authored several text book chapters regarding pet foods and nutrition, and is a frequent speaker at industry and scientific forums.
Dr. Aldrich holds a BS in Agriculture from Kansas State University (1984), an M.S. from the University of Missouri (1991) and a Ph.D. in Nutrition from the University of Illinois (1995). He has held several industry management and technical positions with Co-op Feeds, the Iams Company, Kemin Industries, Inc., and Menu Foods Ltd. He is a member of the American Society of Animal Science, American Society for Nutrition, and the American Academy of Veterinary Nutrition. Greg and his wife Susan Aldrich, PhD live in Manhattan, Kansas and have two grown children (Zachary and Jessica), two dogs (Scout and Brodie), and two cats (Riley and Gracie).
Experience
Kansas State University, Manhattan, KS
Research Associate Professor & Pet Food Program Coordinator, 2012-Present,
Faculty member in the Department Grain Science & Industry with two key responsibilities: 1) assisting a cross-campus team in the development of a pet food program, and 2) building a research program pertaining to the effects of food processing on nutrient retention, shelf-life and safety of pet foods.
Pet Food & Ingredient Technology, Inc., Topeka, KS
President, 2003-Present
Nutrition and technical service to pet food manufacturers and ingredient suppliers.
Menu Foods, Ltd., Toronto, ON
Vice President, Product Development, 2002-2003
Kemin Industries, Inc., Des Moines, IA
Director, Research & Development, 2000-2002
The Iams Company, Dayton, OH (acquired by Procter & Gamble in 1999)
Manager, New Technology Development, 1998-2000
Research Nutritionist, Nutritional Development Research, 1995-1998
University of Illinois at Urbana-Champaign, Urbana, IL
Graduate Research Assistant and Ph.D. Candidate, 1990-1995
University of Missouri-Columbia, Columbia, MO
Graduate Research Assistant and M.S. Candidate, 1988-1990
Garden City Co-op, Inc., Garden City, KS
Sales and Nutrition Manager, 1987-1988
Feed Fieldman, 1985-1987
Farmer & Rancher, Garfield, KS 1983-1985
Organizations
American Society of Animal Science: Professional Member
Companion Animal Program Committee: Standing Member
Chairman 2006-2007, Vice-Chairman 2005-2006, Member 2004-2005
American Society of Nutrition
American Academy of Veterinary Nutrition
Fats and Proteins Research Foundation: Research Committee Member
Graduate Field Memberships:
Member Grain Science Graduate Program Committee; 2016
Certified Member of Grain Science Graduate Faculty, Kansas State University, 2015-present. Member of Grain Science Graduate Faculty, Kansas State University, 2012-present.
Research Supervision (Masters and PhD students supervised; current and past):
Smith, Spencer: MS; start Spring 2017
Morts, Megan: PhD; start Fall 2016
Molnar, Lydia: MS; start Fall 2015
Alvarenga, Isabella: MS; Start Spring 2015-2016; PhD Fall 2016
Donadelli, Renan: PhD; start Spring 2015
Jeffrey, Andrea: MS; Summer 2014 –Spring 2016; Employed Simmons Pet Food, Inc.
DeNoya, Shelby: MS; Fall 2012 –Fall 2015; Employed Purina-LOL, Inc.
Gray, Morgan Nicole: MS; Spring 2013 – Fall 2015; Employed Mars Pet Care, Inc.
Mooney, Alaina: MS; Start Fall 2011 –Spring 2016: Employed Lortschers Animal Nutrition, Inc.
Simmons, Analena: MS; Fall 2013 – Fall 2015; Employed Hills Pet Nutrition, Inc.
Graduate thesis committee member:
Seitz, Dan (MS, pending)
Di Donfrancesco, Brizio (PhD, 2016)
Morts, Megan (MS, 2015)
Gibson, Michael (MS, 2015)
Graham, Nichole (MS, 2015)
Undergraduate Research Advisor/Mentor:
Silva, Ingrid
Stone, Debra
Smith, Spencer
Dainton, Amanda
Rokey, Jordan
Doyle, Molly
Mathe, Sarah