Animal Feed Science and Pet Food
Spring '21 Research Update
Feed Science Research Team
The K-State Feed Science Research Team has continued to stay busy throughout these trying times thanks to the support of Industry Partners, Commodity Groups, and other sponsors. During 2020, the Feed Science Research Team was fortunate to have 3 Ph.D. and 2 M.S. students graduate from the graduate program and begin their careers. The research team currently has 2 Ph.D. students (Caitlin Evans and Kara Dunmire) working on the completion of their degrees.
Throughout the Fall 2020 semester, the team was busy conducting research pertaining to soybean meal, soybean meal quality, and how feed manufacturing influences feed additive stability. Additionally, members of the team are also directly involved with the KSU Feed Safety Team, which had a very productive fall as well. To highlight a few of the team's projects, Kara Dunmire (Ph.D. student) successfully completed a project funded by the Illinois Soybean Association which determined the nutritional value of different varieties of soybeans when fed to broilers. Furthermore, she completed a project funded by the National Pork Board investigating how diet formulation and the pelleting process influence amino acid digestibility in pigs. Caitlin Evans wrapped up her research program this fall investigating how pelleting parameters influence exogenous enzyme stability. Allison Blomme joined the department as a M.S. student of the KSU Feed Safety Team, which is a collaboration of faculty members between the Grain Science & Industry, Animal Science & Industry, and Diagnostic Medicine/Pathobiology departments. Allison has begun working on projects funded by the Swine Health Information Center, DSM Nutritional Products, and Global Food Systems Seed Grant. These studies will be used to help understand viral transmission risk associated with feed ingredients and the efficacy of feed mitigants. She is also working with Dr. Roman Pogranichny to develop an in vitro assay to assess the infectivity of viruses in animal feed.
In addition to the projects the graduate students are conducting, Drs. Charles Stark and Chad Paulk are excited to have dedicated undergraduate researchers, Rachel Kort and Nelsa Beckman as part of their research team. Rachel received funding from the Swine Research and Education Experience to investigate the effects of corn particle size on fecal microbiome of gestating sows. While, Nelsa Beckman is working with KSU dining services and leading the team's initiative to evaluate the potential for food waste to be used as a feed ingredient for livestock and poultry. Over the last several months, COVID-19 and Feed Mill Maintenance have posed logistical challenges to the feed science research team; however, Drs. Stark and Paulk feel very fortunate to have a great group of graduate students and their research coordinator, Haley Wecker to continue to find ways to accomplish goals and answer questions for the feed industry.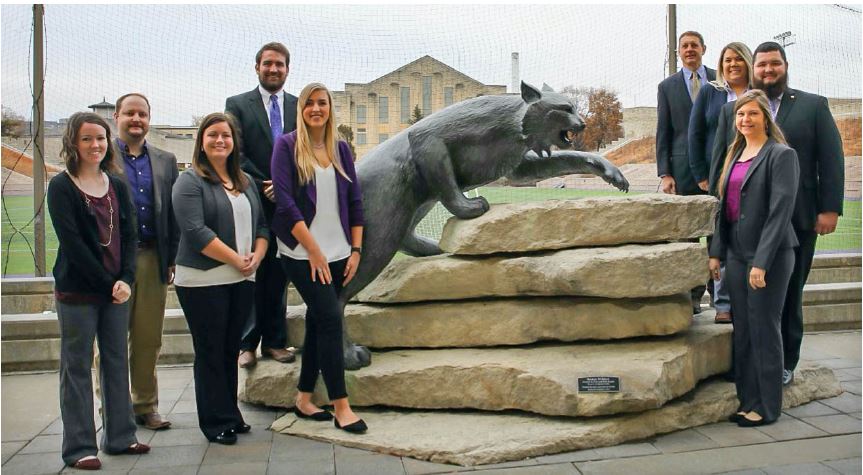 Pet Food Program
The research conducted by Dr. Greg Aldrich and his group in the pet food program has been supported in part by trade groups, and state and federal programs, and pet food companies, however most of the funding comes from ingredient companies that want to explore entry into the pet food market. Interest in the pet food program was translated into 14 grants totaling $956,197 in 2020.
Grains in pet food have become a popular "new" area of research in pet food. In part due to issues surrounding "grain-free" diets and links to non-genetic based DCM in dogs. In the pet food lab, two large projects which characterize how processing parameters impact the retention of resistant starch (beneficial for colon health) of corn-based formulas and their effect on digestibility, colonic health and the microbiome in dogs are nearing completion. Another large project focused on evaluating ethanol distillery co-products (grain distillers dried yeast) in dog and cat diets. The research group has also been exploring methods to feature sorghum in pet treats. Work on a variety of other projects evaluating probiotics, fermentation products, additives to improve food safety, techniques to improve wet/canned pet foods, and shelf life of various pet foods and ingredients are ongoing.
There are currently 12 graduate students in the pet food program. In 2020, the program graduated one PhD student, Megan Haverkamp and bid farewell to their Micro-Lab Post Doc, Dr. Janak Dhakal, who took on a new position at Virginia Tech working with COVID-19 in food systems. Unfortunately, four students in the pet food program experienced graduation delays in 2020 as a result of the COVID-19 pandemic. At present, the pet food program is on track to graduate 3 MS and 4 PhD students this May. Even though the pandemic pushed scientific conferences to a virtual format, the group remained undeterred and continued to present their research in the form of 24 abstracts, and 4 invited presentations. At the American Society of Animal Science conference, Amanda Dainton won 1st place in the 12-minute oral presentation, and Isabella Alvarenga won 2nd place in the poster competition categories. While work was stalled during the March 13 through July 5lab closure students continued to read, write, and prepare for upcoming work. Upon returning to the lab, the group has been operating at full capacity; albeit, in a socially distanced fashion and with limited numbers of graduate students in the lab at any one time.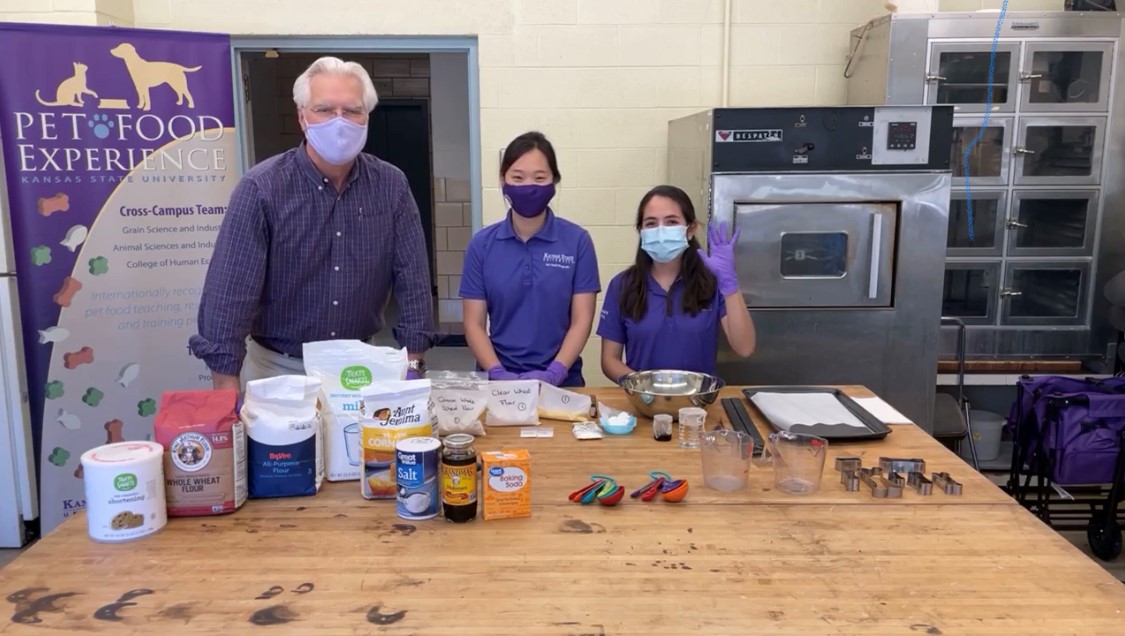 Pet Food Program Information
The K-State Pet Food Program is the first-of-its-kind, with research expertise and facilities to explore solutions for food processing and nutritional challenges faced by companion, endangered and captive wild animals. As the nation's first operational land-grant university and an international leader in global food systems, Kansas State University has the capabilities and industry ties needed to shape the future of food production for pets through this innovative opportunity. Click here to learn more about the program.