Brewing and Fermentation Science
The Brewing and Fermentation Science short course is a 3-day program held January 8-10, 2024, in which hobbyists, professional brewers, and other participants will have the opportunity to learn and experience the fundamentals in brewing science, brewing technology, safety, and sensory analysis. Participants will gain valuable industry insight from the professionals at Manhattan Brewing Company, as well as instruction from faculty at Kansas State University and other industry professionals on the brewing process and the science behind it. The short course will be held at Manhattan Brewing Company's Taproom and Brewery in Manhattan, Kansas, where participants can get a hands-on experience and apply what they learn. The curriculum includes all facets of the brewing process including raw ingredients, brewing technology and techniques, fermentation, safety, packaging, and tasting of the finished product. This short course covers basics in brewing, cellaring, packaging, raw ingredients, safety practices, beer styles, and sensory analysis. 21+ to enroll.
You can expect to learn about:
Malt, Hops, Yeast and Water
Mashing, Vorlaufing, Lautering, Boiling, Whirlpool, Knockout
Fermentation
Packaging
Safety
Tasting Technique
Beer Styles
Common Off-flavors
This short course will:
Introduce participants to the brewing process
Demonstrate how scientific concepts presented by Kansas State University faculty apply to brewing practices
Offer an opportunity to be instructed by industry professionals at Manhattan Brewing Company
Introduce sensory analysis techniques
By the end of this short course, you will be able to:
Identify common brewing equipment
Explain common brewing techniques
Differentiate between Lagers and Ales
Identify and describe a limited selection of beer styles
Conduct simple tasting analysis of select beer styles
Dates: January 8–10, 2024
Cost: $1,000
Note: The class size is limited to 20 participants.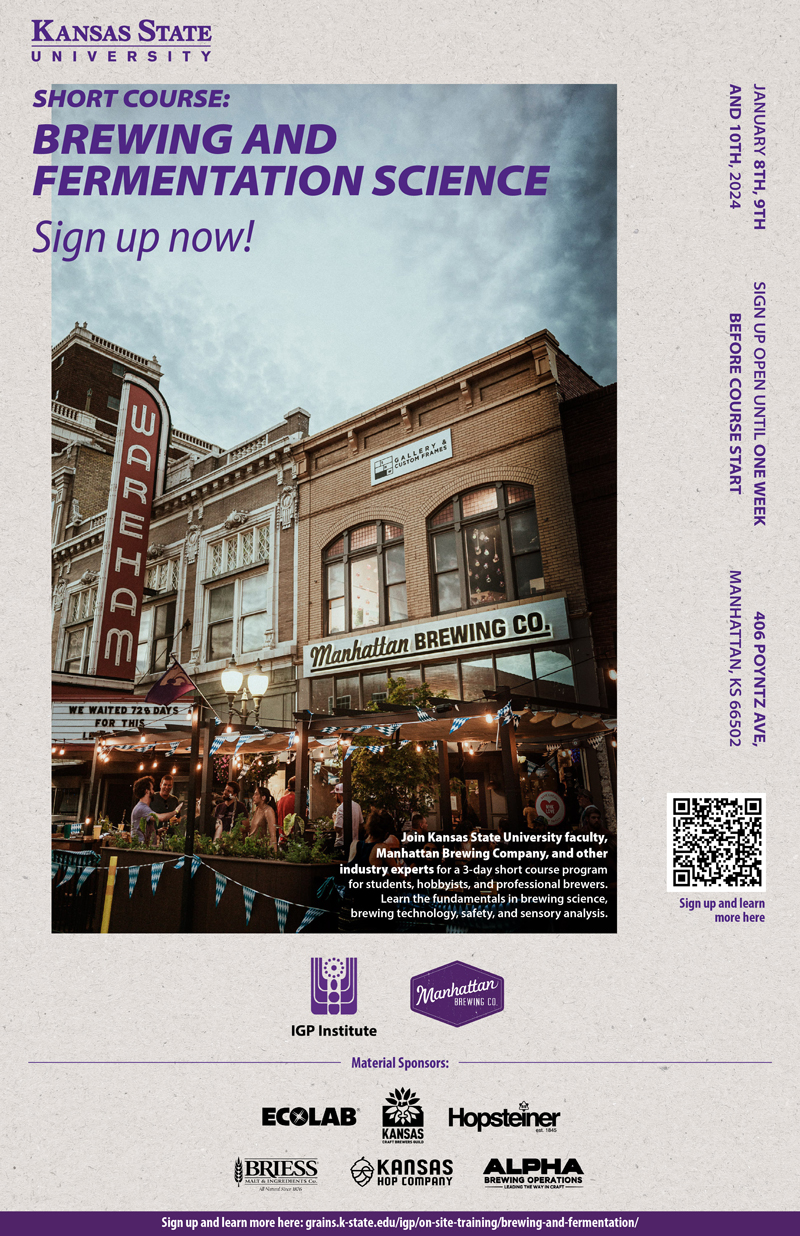 IGP Institute reserves the right to cancel or reschedule courses if minimum enrollment numbers are not met. If a course is canceled, participants will be refunded 100% of their tuition. If a course is rescheduled, participants will have the opportunity to have 100% of their registration fees applied to the rescheduled course or receive a full refund.
Participants who wish to cancel or transfer their registration to another employee can do so for a $100 processing fee as long as notice is received at least fifteen days prior to the course start date. Refund requests made fourteen days or less before a course start date will be not be refunded.