Dr. Sajid Alavi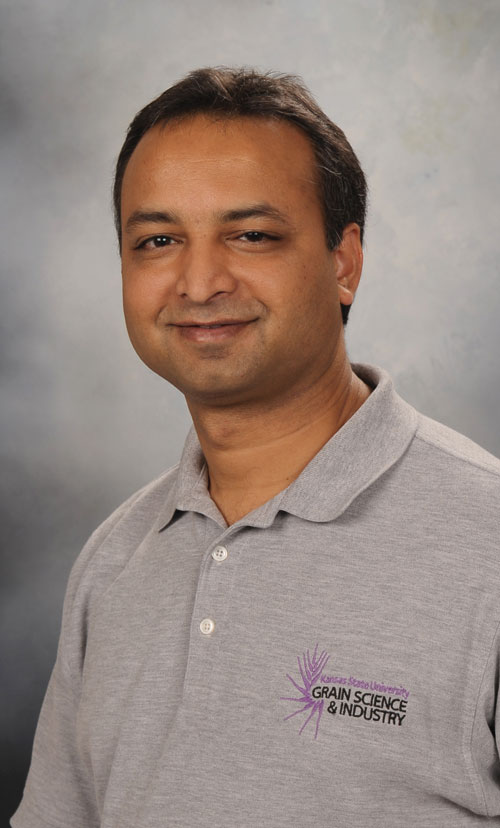 Dr. Sajid Alavi,
Professor,
Department of Grain Science and Industry,
201 Shellenberger Hall,
Kansas State University,
Manhattan, KS-66506
Ph:785-532-2403,
Fax: 785-532-4017
E-mail: salavi@ksu.edu
Biography
Sajid Alavi received his B.S. in Agricultural Engineering from Indian Institute of Technology, India in 1995, M.S. in Agricultural and Biological Engineering from Pennsylvania State University, PA in 1997 and Ph.D. in Food Science/Food Engineering from Cornell University, Ithaca, NY in 2001. He has been a faculty member in the Department of Grain Science and Industry at Kansas State University since 2002.
Dr. Alavi's research interests lie in food engineering and more specifically in the areas of extrusion processing of food and feed materials, rheology, food microstructure imaging, structure - texture relationships, and value added uses of agricultural materials and residues.
His current research projects are: 1) international food-aid processing and solutions, 2) dynamics of microstructure formation in extruded biopolymer foams, 3) use of non-invasive X-ray micro tomography(XMT) for characterizing extrudate micro-structure and structure-texture relationships, 4) isolation of sorghum protein concentrates and gluten-free foods based on grain sorghum, 5) starch-clay nanocomposites, 6) impact of extrusion variables and formulations on nutritional and physical quality of pet food, 7) gluten quality and texturized vegetable protein, 8) high protein, low fat, or high fiber/ fruit-based healthy snacks, and 9) reactive extrusion for various applications including pretreatment for cellulosic ethanol, concentration of components such as proteins, cellulose, etc.
Dr. Alavi's teaching assignments include a senior level course 'Extrusion processing in food & feed industries' and a graduate level course 'Advanced extrusion processing' .
The Extrusion Lab, under Dr.Alavi's supervision, provides to the industry extrusion training through short courses and services for pilot scale trial runs for various products. Dr. Alavi also designs technology and R&D solutions for numerous food, feed and pet food processors, and is involved in processing and food aid related projects in USA, Africa, India and other countries around the world.
Lab Picture January 2009