Project Overview
The O.H. Kruse Feed Technology Innovation Center
Kansas State University, Manhattan, KS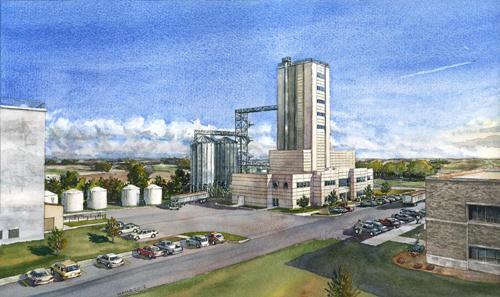 A Global Partner in Feed Education Overview
The current project for the continued development of K-State's Grain Science and Industry Campus is the construction of a feed research, teaching and production facility. A campaign has been completed to raise ~$13 million to build a world-class facility for teaching the sciences of feed processing, petfood development and grain handling to serve the needs of our students, faculty and industry stakeholders far into the future. The principal goal of the new facility is to address the urgent needs of the livestock feed industry today (particularly related to feed safety and profitability), while providing the vision, flexibility and capacity in looking to the future to realize the next generation of opportunities. This facility is being constructed within the new Department of Grain Science and Industry complex on the K-State campus and will be co-managed by the Grain Science & Industry Department and the Department of Animal Sciences & Industry. The feed science program at K-State offers complementary research capabilities in milling, baking, cereal science, grain operations and bio-processing and is recognized as a world-wide leader in feed, cereals and oilseeds research, teaching and industry outreach. The Department of Animal Sciences and Industry has the second largest undergraduate animal science teaching program in the nation and is a dominant player among Land Grant universities particularly in the areas of livestock nutrition and the effect of feed processing on nutritional performance.
Food and Safety at K-State

Building on its strengths in grain science, animal science and food safety, K-State has designated food (and feed) safety and security as its primary strategic initiative. In 2001, the Food Science Institute was established at K-State to integrate expertise in food science across the campus. Today, the KSU Food Science Institute encourages collaborative research by faculty in five colleges and 11 departments and trains students in the food science and industry degree program.
This collaborative approach promotes integrated insights that give students well-rounded training and addresses issues of food (and feed) safety and security from farm to fork. As the food-versus-fuel debate continues, K-State is positioned more strategically than any other institution to bring these industries together in finding integrated solutions and strategies to optimize the total system. With the investment of monetary and human resources over many years, food and feed safety and security has become a strategic initiative that is contributing to K-State's 2025 Vision to become a Top 50 public research university.
Part of the impetus for the new O.H Kruse Feed Technology Innovation Center is the selection of K-State/Manhattan as the site for the new National Bio- and Agro-Defense Facility (NBAF) laboratory to be built by the Department of Homeland Security. NBAF will replace an aging BSL-3 (Bio-Safety Level 3) facility on Plum Island, NY, with a modern and fully certified BSL-4 laboratory that will be capable of safely conducting research with dangerous and exotic Foreign Animal Diseases (FAD's). The site chosen for NBAF is the current site of the K-State Department of Animal Sciences feed mill which, like its Grain Science counterpart, is well beyond its useful life (>50 years).
The Grain Science Program at K-State

K-State's Grain Science and Industry Department is the only degree-granting program in the U.S. that awards undergraduate degrees in the areas of feed science & management (FSM), milling science & management (MSM) and bakery science & management (BSM), and M.S. and Ph.D. degrees in grain science. The department is currently developing a petfood processing option and a minor in companion animal food production as part of its Feed Science and Management program. In addition to the core requirements in feed science, students pursuing this new option will also complete course requirements in extrusion, companion animal nutrition, petfood manufacturing (including extruded, baked and canned), microbiology and process management.
The commitment of the university and the College of Agriculture to the grain science program has been demonstrated in the hiring of 14 new grain science faculty and staff positions within the last six years refilling positions mostly vacated due to retirements and filling new positions funded by industry partners. These new faculty and staff members have added capabilities in fermentation, biopolymers, enzymes, material science and risk management to expand on the existing strengths in milling, baking, grain and feed. The recent hires represent more than 50% of the faculty total in the department; bringing the key program staff to 25 full-time positions. Many current grain science faculty and staff members have prior industry experience and have appointments in teaching, research and outreach.
Student recruitment efforts continue to be the top priority within the department's teaching program. Talented young people today have a wide array of options available to them as they consider a career and program of study. The grain and feed industries must compete for this talent resource. Our industry looks to K-State to be the front door in bringing the next generation of leadership into the industry. To drive this effort, the Department has a full-time staff position dedicated to the task of student recruiting and has extended its recruiting efforts beyond the state of Kansas. Enrollment has increased sharply in the last four years due to this heightened focus, supported largely by completion of the Hal Ross Flour Mill and a competitive and ever-growing scholarship program. The department annually awards about $200,000 in endowed and annual alumni, friends and industry-supported scholarships to about 60% of its undergraduate students. In fall 2012, undergraduate student enrollment in the department was 73 BSM, 40 FSM and 87 MSM students for a total of 200 students. Based on the positive enrollment response in Milling Science and Management with completion of the Hal Ross Flour Mill in 2006, it is conservatively expected that the new O.H Kruse Feed Technology Innovation Center will double the current feed science enrollment. The department has the teaching capacity to accommodate up to 80 students in the feed/grain/petfood program with its current faculty. The potential growth of the program recently resulted in the commitment by two of our successful alumni, Mr. Jim Brown (Clay Center, KS) and Mr. Gary Lortscher (Bern, KS), to endow two $1,000,000 professorships – the Jim and Carol Brown Professorship in Feed Science & Management and the Gary and Betty Lortscher Professorship in Renewable Energy.
K-State grain science graduates are highly sought after and earn among the highest starting salaries across the university. Most students have multiple job offers early in their senior year and many are committed to full-time employment at the conclusion of their internship prior to their senior year.
New Facility Needs and Capabilities

Background: The Feed Science and Management B.S. degree program at Kansas State University, then known as the Feed Technology B.S. degree program, began in 1951. This new program was a direct result of efforts, on the part of feed industry executives, to convince officials at Kansas State University that a feed technology program, modeled after the existing flour milling program, was needed to provide professionals for the emerging feed industry. Subsequent construction and equipping of the original teaching and research feed mill on the campus of Kansas State University was a further result of efforts on the part of those same executives to raise cash and equipment donations. The final cost of the original feed mill was $331,000 and over 275 firms contributed cash, equipment or services to support the project. The original feed mill was dedicated November 10, 1955.
Since that time, the K-State Feed Science faculty has dedicated themselves to providing the best educated professionals possible for the U.S. (and global) feed industry. Over 700 graduates of the program have had long and successful careers in the industry and its allied trades. In addition, thousands of professionals from both the domestic and international feed industry have attended short courses, workshops and seminars provided by the Feed Science faculty.
Feed related research by the K-State Feed Science faculty has provided extensive gui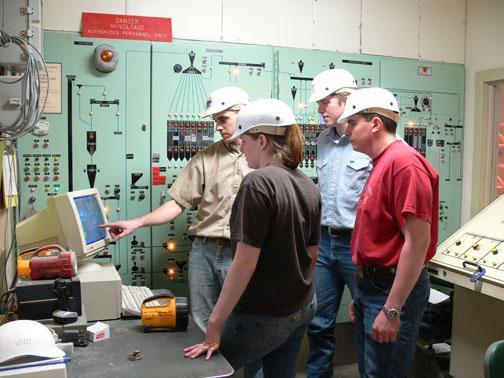 dance to the industry on measuring and improving feed quality and determining the effect of various feed processes on animal performance. Many of the standards for feed quality measurement were developed at Kansas State University and adopted by organizations such as the American Society of Agricultural and Biological Engineers (ASABE), American Association of Cereal Chemists (AACC International) and Association of American Feed Control Officials as well as agencies such as the U.S. Food and Drug Administration (FDA) and the U.S. Department of Agriculture (USDA).
We now have the opportunity to elevate this tradition of excellence in education, research and outreach to the next level with the construction of the new O.H. Kruse Feed Technology Innovation Center that will serve the needs of the students, staff and faculty of the Department of Grain Science and Industry and the Department of Animal Sciences and Industry at Kansas State University as well as our stakeholders in animal agriculture for generations to come.
Feed Mill Capabilities: The design of the new O.H Kruse Feed Technology Innovation Center being built at K-State is flexible and multi-purpose. The primary design criteria are to develop a world-class teaching and research facility that will serve the needs of our students, scientists, faculty, and industry stakeholders. All traditional feed processes will be included as well as novel processes for aquaculture feed, companion and zoo animal food production and research. Substantial emphasis has been placed on the capability to conduct research, teaching and outreach training on petfood and feed safety and biosecurity issues related to animal agriculture. In addition, sufficiently large grain storage capacity will be included to facilitate grain quality preservation and improvement research and outreach training. Space will ultimately be included for a pet/exotic animal food processing research laboratory that will be equipped to allow for extensive research and development of improved companion, zoo and exotic animal food.
Science and Education Wing: Though current funding is not sufficient to build the planned Science and Education Wing of the facility at the present time, it is being designed as an integral part of the new feed mill so that when funding becomes available, construction can begin almost immediately. One of the analytical laboratories in the Science and Education Wing will be certified as a Bio-Safety Level 2 (BSL-2) analytical laboratory that will allow sample analysis and scientific research with various microorganisms (including mycotoxins) and non-virulent pathogens, such as Salmonella spp., on site.
Petfood and feed safety and biosecurity are currently significant issues in animal agriculture and will remain so for the foreseeable future. Attention has been focused on feed as a potential vector for pathogens into food animals and must be addressed. Both the proposed BSL-2 Feed Safety Research Center (see below) in the O.H. Kruse Feed Technology Innovation Center and the BSL-2 analytical laboratory in the Science and Education Wing will be able to accommodate basic and applied research with these pathogens in a safe and controlled manner. Currently, this capability simply does not exist in the United States. A second laboratory will be designated to allow for grain, feed and ingredient quality research and teaching which will provide analytical capability for the feed mill, petfood processing laboratory and grain handling facility as well as provide service for internal and external clients.
The Science and Education Wing will be the main public entrance to the Feed Innovation Center and, as such, will be the display area for the AFIA/KSU Feed Manufacturing Hall of Fame. Currently there are eighteen feed industry professionals that have been elected to the Hall of Fame -- all of whom have made significant contributions to the past and current success of the global feed industry. Each inductee is represented by a beautiful bronze plaque with the individual's likeness cast in bronze that will be prominently displayed in the entrance area to the Science and Education Wing.
Cargill Feed Safety Research Center (BSL-2 Feedmill):
It is well known that food safety is one of the biggest challenges facing animal agriculture at the present time. Assuring the citizens of the world that their food system is safe and wholesome is paramount to maintaining a vibrant livestock industry. In order to develop the science of safe and clean feed for livestock, it is necessary to have a research and teaching facility where scientific studies involving food-borne illness-causing pathogens in livestock feeds can be conducted safely and with meaningful scientific results. At present, there is not a single facility in the United States approved for feed-related research involving such pathogenic agents as Salmonella, E. coli and other common food-related pathogens.
In order to conduct controlled research with low-virulence pathogens that are sometimes found in livestock feeds, a portion of the feed mill tower will be constructed and equipped such that certain pathogenic organisms can be safely and effectively studied without causing undue concern to the public and/or scientific community. The Cargill Feed Safety Research Center will consist of a pilot feed mill that has been designed and will be built to BSL-2 specifications and include provisions for controlled access through an air-lock door system, negative air pressure control, HEPA air filtration system, stainless steel construction where needed, and open and Clean-in-Place (CIP) designs for conveyors and fixed equipment. Heat-up capability, such that the entire BSL-2 facility can be raised to a minimum of 140°F and held for 24 hours with little human intervention, will be designed into the structure for additional microbial control. This self-contained pilot feed mill laboratory will contain small but production-sized equipment such as mixers, a pellet mill, a long-term conditioner and a pellet cooler. Additional equipment such as extruders and other process equipment can be installed on a temporary basis for pathogen research on-demand.
One of the exciting areas of investigation that the new NBAF federal laboratory has announced as a high priority is the development of direct-fed vaccines for both domestic livestock and wildlife. It is expected that the Cargill Feed Safety Research Center will be a critical link in the development of technology to produce feeds that contain live or modified-live virus vaccines. Again, there are no facilities in the entire U.S. with the capability of producing feeds containing direct-fed vaccines but the proposed Cargill Feed Safety Research Center will certainly have that capability and will serve as a test site for new technology development. When direct-fed vaccines are sufficiently developed and approved, the facility will be able to provide tremendous guidance for commercial companies wishing to produce these vaccines.
To support the Cargill Feed Safety Research Center, the Science and Education Wing will contain a BSL-2 microbiological analytical laboratory that will be fully capable of conducting specific pathogen studies to determine levels of contamination and presence of pathogens, providing adequate quantities of pathogen cultures for use in the Cargill Feed Safety Research Center, and -evaluating the results of specific studies conducted in the Center. This analytical laboratory was previously described in the "New Facility Needs and Capabilities" section above.
Project Funding:
A lead gift of $2 million cash was made in October 2007 by Ronald Kruse, an alumnus of the K-State feed science program, to honor his father, Otto H. Kruse. The State of Kansas, Kansas Bioscience Authority, Kansas State University and its College of Agriculture are providing $10 million in funding required for the new facility. Additional cash gifts and in-kind equipment donations have provided the remaining resources needed for construction and equipping of the new facility. Construction began in July 2012 and will be completed in early summer 2013.